Standard Services – Spay/Neuter Services & More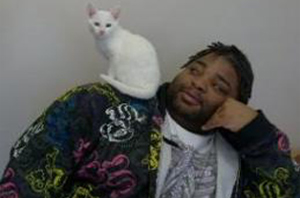 The solution to the stray, abandoned, and unwanted companion animal dilemma is this: only by spaying and neutering all companion animals will we get a handle on pet overpopulation, with all its tragic consequences.
We target companion animal and feral cat populations that are most in need of spay/neuter services. In doing this, we can make the greatest impact on Western New York's overpopulation problem.
Our goal is to safely spay/neuter as many animals as possible. We only provide services for healthy animals in order to minimize any possible risk to your pet and to enable us to accomplish our mission.
We strive to perform sterilizations in a humane manner and to keep stress, pain, and the risk of complications as minimal as possible.
Our veterinarians are licensed in the State of New York. They are highly skilled and experienced in high-quality and high-volume surgical techniques. Our licensed veterinary technicians assist the veterinarians in surgery and help make sure the animals are well cared for.
Our instruments and supplies meet the highest standards. Each surgery is performed with an individually autoclaved (steam-sterilized) surgical pack.
All patients are anesthetized with safe anesthetic agents. They receive anesthetic monitoring via pulse oximetry which measures heart rate and oxygen levels.
All patients receive pain medication before surgery and prior to release. Additional pain medication is sent home only if we feel it's necessary.
---
Size, breed and eligibility for dog appointment may be limited due to scheduling availability.

---
WE REQUIRE PRE-PAYMENT FOR SURGICAL SERVICES BEFORE WE CAN MAKE AN APPOINTMENT
There may be exceptions to this policy which will be determined at the time you make your appointment. Otherwise, please expect to pre-pay for routine surgery.
Additional fees as a result of non-routine surgical procedures are due at discharge.
We accept credit/debit cards, money orders or cash. No personal checks.
You can pay over the phone via credit/debit card or by sending a money order.
Your pre-payment will be fully refunded if you cancel your appointment with at least 24 hours notice.
Approved rescue organizations ARE NOT required to pre-pay. However, they will be charged a no show fee if a 24 notice of cancellation is not given.
Maximum Weight: 75 lbs: Restricted to Pit Bull/Pit Mix
Minimum Age: 12 weeks (males puppies) or
16 weeks (female puppies)
Maximum Age:….5 years *** Call for pricing and services for dogs 6 years but under 8 years old 
Dogs that are at the weight borderline will need to schedule as the larger weight in order to guarantee their surgery spot.
Income Qualified  Dog Owners and Rescue Partner Dogs  (See Dog Eligibility)
Spay It Forward (when the schedule permits)
  (For Non-Income Qualified Dog Owners)
Under 30 lbs.   $140.00
Under 30 lbs.    $250.00
31-50 lbs.          $160.00
31-50 lbs.           $300.00
51-75 lbs.          $220.00  Restricted to Pit Bull/Pit Mix

51- 75 lbs.          $350.00   Restricted to Pit Bull/Pit Mix
SERVICES INCLUDE
1. Routine Spay/Neuter (see below)
2. Rabies Vaccine
3. DA2PPV Vaccine (parvo-distemper)
4. Advantage Flea Control
5. 3 days of post-op pain medication
For pet's protection we recommend dogs have their first DA2PPV (parvovirus-distemper) vaccine prior to appointment (vaccine takes two weeks to take effect)
Minimum Age:……12 weeks
Minimum Weight:…3 lbs.
Maximum Age:…….5 years *** Call for pricing and services for cats 6 years but under 8 years
70.00 or $250.00 for Exotic Breeds
( for income qualified pet owners only!)
$120.00 For  Spay  It Forward or $250.00 for Exotic Breeds 
(for non income qualified pet owners) 
1. Routine Spay/Neuter (see below)
2. Rabies Vaccine
3. FVRCP Vaccine (distemper)
4. Selemectin
(kills fleas; prevents heartworm; treats ear mites, roundworms and hookworms)
Prices based on funding availability and seasonal scheduling.
1. Services are provided for feral (un-owned cats) only.
2. Cats must be 3 months of age or older.
3. Cats must arrive in a humane trap (also known as Havahart traps).
4. Same day surgery service: Cats are dropped off at 8:00 a.m. and pick up at 4:00 p.m.
5. Caregiver must be able to provide a warm, safe way to transport
6. Caregiver must be able to provide warm, safe way place to recover the feral for 24-48 hours after surgery.
Additional fee is required for tapeworms (Droncit injection).
We do not FIV/FeLV test feral, free roaming or barn cats. 
Privately owned pets can be FIV/FeLV tested for $45. 
FIV/FeLV testing is available (with no price increase) for our approved rescue partners. 
Operation PETS requires a valid rabies certificate or requires the owner to pay for a rabies vaccine at Operation PETS on the day of surgery. 
Additional fees are required for non-routine surgical procedures that require more involved surgery, such as:
• Dogs over 65 lbs.
• Obese
• Pregnant
• In Heat
• Cryptorchid (undescended testicles)
• Pyometra (pus-filled uterus)
• Umbilical Hernia Repair


Other additional services available for dogs and cats when here for surgery are as follows:
Advantage (Dog)- $10.00
Revolution (Cat)- $10.00
Nail Trim Cat – $5.00 or Dog- $10.00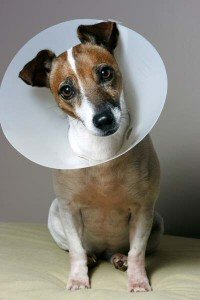 Elizabethan Collar (E-Collar): $10.00
An e-collar keeps pet from licking incision during healing process.
Optional but recommended as licking, biting or chewing at the incision site can cause infection.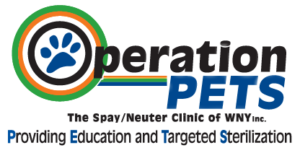 3443 South Park Ave.,  Buffalo, NY  14219
Phone:  716-783-8998 | Fax: 716-783-8099
Copyright© 2023 Operation Pets - All rights reserved - No text or images can be used from this site without permission