Rescue Partner Eligibility
Rescue/Adoption Organizations & Shelters
Eligibility Requirements
Operation PETS is privileged to work with a wide variety of shelters, humane societies, animal rescue and adoption groups, and other animal welfare organizations in our community.
Rescue, adoption or shelter organizations must be pre-approved to use our clinic.
You must be a 501(c)(3) non-profit with an established spay/neuter policy, vaccination protocol, and have a minimum of one year experience in the animal welfare, rescue, or adoption field.
Prior to making an appointment you must first complete and submit a PARTICIPATION APPLICATION.
Just print the application form below to your computer, complete, and mail to us at the address on the last page of form.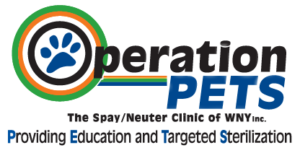 3443 South Park Ave.,  Buffalo, NY  14219
Phone:  716-783-8998 | Fax: 716-783-8099
Copyright© 2023 Operation Pets - All rights reserved - No text or images can be used from this site without permission