If you need assistance
Emergency Contacts
Spaying and neutering are very safe surgeries; however, complications can occur.
Minimal redness and swelling should resolve within several days.
Please contact Operation PETS immediately (Monday-Thursday) if redness and swelling persists or if you notice any of the following:
•Pale gums
•Depression
•Vomiting
•Diarrhea
•Discharge or bleeding from the incision
•Difficulty urinating
•Labored breathing
•Decreased appetite
•Lethargy lasting more than 24 hours
Operation PETS will recheck your pet at no charge for any complications resulting directly from surgery. There may be a minimal cost for medication if needed (example antibiotics, e-collar).
Your regular veterinarian must address illnesses or injuries that are not a direct result of surgery. Operation PETS cannot be held responsible for complications resulting from failure to follow Post-Operative instructions or for contagious diseases in post-operative period.
If there is an emergency when Operation PETS is not open, please call your regular veterinarian or one of the following 24-hour veterinary emergency hospitals for medical assistance.
Grand Island Animal Hospital
2323 Whitehaven Road, Grand Island, NY
(716) 773-7645
Orchard Park Veterinary Medical Center
3930 North Buffalo Rd, Orchard Park, NY
(716) 662-6660
Greater Buffalo Veterinary Services
4949 Main Street, Amherst, NY
(716) 839-4043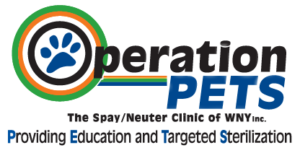 3443 South Park Ave.,  Buffalo, NY  14219
Phone:  716-783-8998 | Fax: 716-783-8099
Copyright© 2023 Operation Pets - All rights reserved - No text or images can be used from this site without permission