Assisting our Clinic
Volunteering with Operation PETS
Operation PETS opened on July 21, 2008. We are the first clinic in New York State modeled after the Humane Alliance vision and are proud to be one of 60 Humane Alliance mentored clinics across the U.S. with a shared mission — saving companion animals' lives through prevention.


Operation PETS
has the highest regard and concern for the animals in our care and treat each animal as if it was one of ours.
Our veterinarians specialize in spay/neuter surgery and are skilled and experienced in high-quality and high-volume surgical techniques.
Our goal is to perform sterilizations in a humane manner and to keep stress, pain, and the risk of complications as minimal as possible.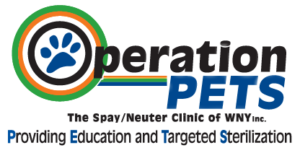 3443 South Park Ave.,  Buffalo, NY  14219
Phone:
716-783-8998
| Fax: 716-783-8099
Copyright© 2018 Operation Pets - All rights reserved - No text or images can be used from this site without permission